27 May

Parking Garage Cleaning and Washing

Reasons For Cleaning Parking Garages
Parking garage cleaning is an important part of maintenance and is great for indoor garages and around stairs and elevator areas. It is a valued service for commercial building clients because it is often the first area your customers see. If you manage a shopping center or strip mall, you have more than likely run into the need for a concrete pressure wash. Maintaining clean concrete and surrounding areas shows your customers that you care about your property, and ultimately helps attract customers. Concrete cleaning involves dry or wet sweeping to remove loose surface dirt, dust and salt. High-pressure washing to remove oil, grease, food waste, gum and walk up traffic stains will extend the life of the concrete saving money in costly repairs. Our parking garage cleaning services includes surrounding Nashville areas.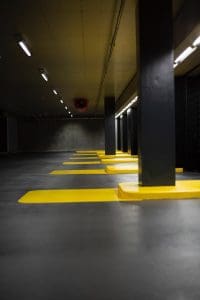 Shopping and Parking garage cleaning and washing may include sidewalks, walls, columns, building exterior, roofs, canopies, and windows.  When selecting a pressure washing company for Nashville parking garage and shopping centers, look for the following items to ensure that they are knowledgeable and can handle the task at hand safely and efficiently.
Truck or trailer mounted equipment– You don't want to see a handyman rolling a pressure washer out of his truck bed to clean a strip mall's sidewalks.  The proper hot water pressure washing unit for this type of work weighs more than one man can push around.  Also these machines are usually too small to run a surface cleaner attachment, which increases efficiency and creates a uniform cleaning pattern.
References and pictures– An experienced commercial pressure washing company will have several references as well as before and after photos of shopping center pressure washing.  Look for more than just concrete cleaning.  A professional power washing company should be proficient in soft washing, window cleaning, gum removal and building exterior cleaning.
 Online reviews–  Look for customer reviews on a credible platform. Google reviews are great because they require the person leaving the review to log in, reducing the chances of fake reviews.  Also, take a look at the company's Better Business Bureau rating.
Overall, keeping a clean parking garage is a small investment with big payoffs.  It's something tenants, customers, vendors and management will appreciate.
Routine Cleanings
Spider webs above and chewing gum on concrete is a good reason to set up regular cleanings for parking garages on a dedicated schedule. It is easier to budget for 4 cleanings annually versus an "as needed" basis.  Since the weather patterns in the Nashville area include freezing temperatures in the winter months, it is a good idea to schedule a cleaning for late fall as well as early spring so that a cleaning is not needed during colder months. 
The staff at Pro Wash, LLC has performed parking garage cleanings and washing at dozens of locations across Middle TN.  With abundant references for this specific service, and several experienced crew members using high flow hot water pressure washers, we have become the areas leading provider for pressure washing, soft washing, gum removal and other exterior cleaning services.  Contact us any time for a no obligation consultation or quote for any of your pressure washing needs.  www.ProWashNashville.com